Proposed PGE Okome Area Gas/Water Pipeline Route
Pennsylvania General Energy (PGE) is proposing (Chapter 105 permit and Section 401 Water Quality Certification) to construct a gas/water pipeline through one of the more remote and primitive sections of the Mid State Trail between Little Pine State Park and Blackwell. This pipeline will not only have a significant impact on Eastern States 100, but all outdoor recreationists and the water quality in the area. The permit application appeared in the October 7, 2023 PPA Bulletin and has a 30 day comment period.
The project would build three pipelines within a 30-foot wide, 3.7 mile long permanent right-of-way and a temporary right-of-way that varies in width.
The company proposes open cut crossings of nine high quality-cold water fishery and wild trout streams and one wetland.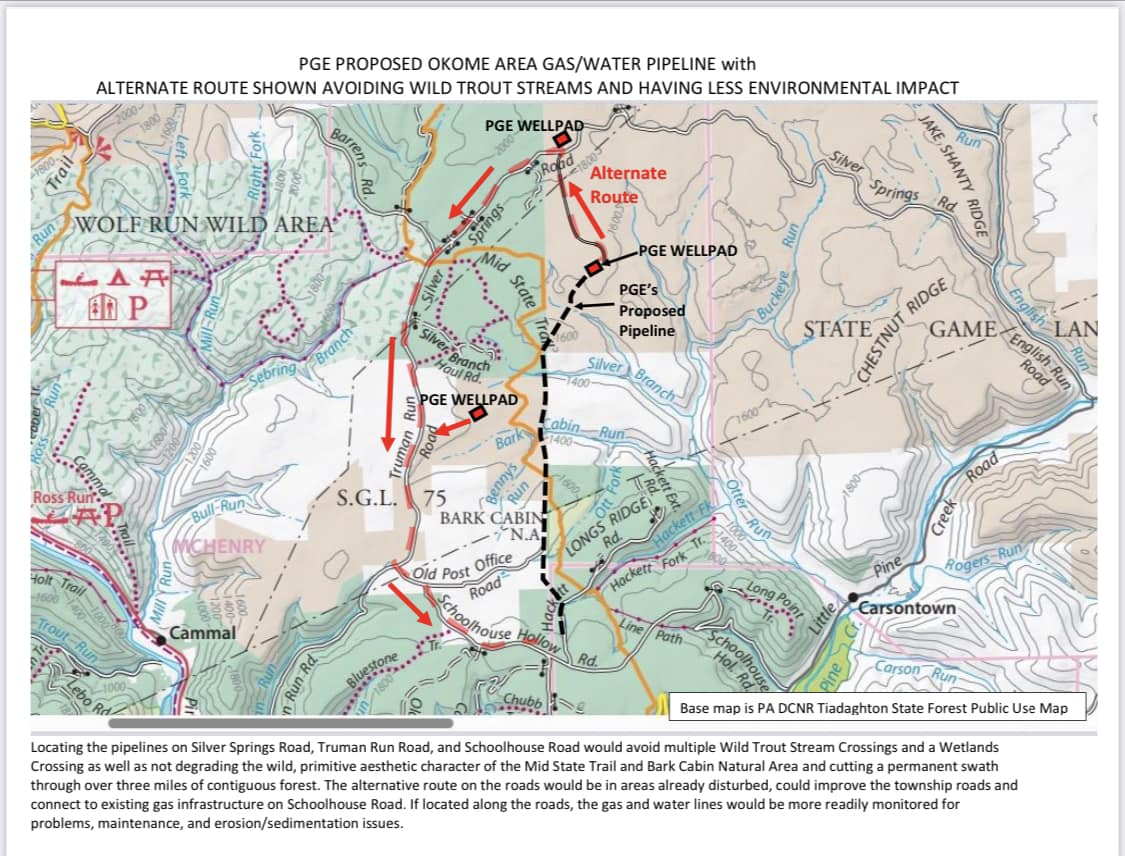 This project is well along the way to approval and needs strong support to change the proposed outcome. Eastern States Trail-Alliance, Mid State Trail Association, Keystone Trails Association, and the Susquehanna Chapter of Trout Unlimited are working together to propose an alternative route.
Below is our letter to PA Department of Environmental Protection.
Please make your voice heard and write to the  DEP's Eastern District Oil and Gas Management Program Office, 208 West Third Street in Williamsport or call 570-321-6550 or email RA-EPEASTERNOGPRG@pa.gov. Hurry! The deadline for public comments is November 6.
———————————————————————————-
DEP Eastern District Oil and Gas Management Program
208 West Third Street
Williamsport, PA 17701

RE: Permit #E-4129223-006 – Proposed PGE Okome Area gas/water pipeline route

I'm writing on behalf of Eastern States Trail-Endurance Alliance (ESTEA), an all-volunteer nonprofit organization that promotes trailrunning and the responsible use of public lands, to share our position on the Pennsylvania General Energy Co.'s (PGE) proposed Okome Area gas/water pipeline route.  We strongly support the alternative route developed and proposed by the Susquehanna Chapter of Trout Unlimited, in accord with our friends at the Mid State Trail Association.

We also believe the question of allowing PGE's proposed route to become an industrial sacrifice zone is important enough to justify additional public input, and we request that you schedule and advertise a formal public meeting prior to issuing any permits.

We are specifically concerned with this proposal because one of our races, the Eastern States 100, will be adversely affected by the proposed pipeline.  Eastern States is a 100-mile footrace that circumnavigates the Pine Creek Valley, and uses the section of the Mid State Trail that would be disturbed by this pipeline.  Eastern States has been drawing hundreds of people to the area from across the country and around the world since 2014. It is considered one of the premier events of its kind on the east coast due to the challenge of its course and the wild beauty of Pine Creek and the mountains that surround it.

We recognize that the oil and gas industry is economically important to the region, but we also know that outdoor recreation and tourism is a vital economic engine that is likely to remain long after those extractive ventures have faded.  The two can coexist, but only if decisions such as this one are made with the long-term concerns of both in mind.

This is why we support the route proposed by Trout Unlimited.  It takes practical advantage of existing roads, eliminates numerous stream and wetland incursions, and minimizes the amount of standing forest destroyed (with the accompanying edge effects).  This is critically  important along the boundary of the Bark Cabin Natural Area in Tiadaghton State Forest, with its remnant old growth forest and unique scenic and ecological value.  We hope you will consider this viable and less-destructive alternative route.

Thank you for your time and attention.

Respectfully, on behalf of ESTEA,
Jeffrey A. Calvert
President, Eastern States Trail-Endurance Alliance